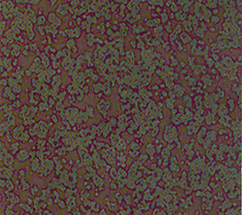 imbalance computer music | ICM 04R | 2015
download only - enhanced reissue of the original CD release from 1997
The original works on this record are compiled and mixed using material created between 1992 and 1997. Produced 1997 by Robert Henke, additional material by Robert Henke and Gerhard Behles.
For the reissue I decided to add quite radical and dynamic filtering to the material: bringing spectral details in the foreground, riding along already existing changes in timbre, correcting odd harmonics and enhancing the spatial depth. The resulting version shines a whole new light on the hidden beauty of the original sources.
1. floating point 52:15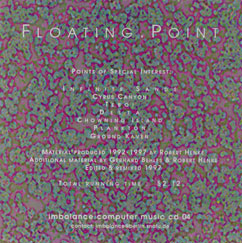 The track IDs on the 1997 release were already coined '
Points of Special Interest
', since the recording was meant to be one single piece. For the reissue I decided to get rid of the individual IDs completely and call the whole track 'floating point". Below are the running times indicating the start of the parts:
* a longer version of this part is available as free track of the month
here
.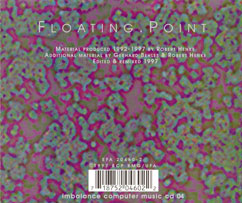 The 1997 release has been created with the following instruments:
Roland Juno 6, Yamaha TG 77, Yamaha SY 77, Boss RSD 10 Digital Delay, Sequential Circuits Prophet VS, Ensoniq ASR-10 R, Alesis Quadraverb, Lexicon PCM 80, Speck Filter Bank, Studio Hofschneider Synlab, C-Lab Notator (on Atari 1040), Max 2.3 (on MacPlus)
Source material was mixed live and recorded to DAT. Later editing and layering in Protools. The digital reissue has been produced using Ableton Live 9 with some occasional additions of Lexicon 480L and Eventide Eclipse reverbs.