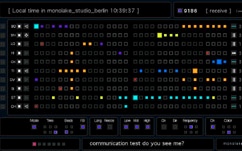 Based on the engine and interface which I developed for my
Atlantic Waves
concert series is a version that can actually be played by random visitors of an exhibition. I called this version
Atlantic Wave Terminals
.
Atlantic Wave Terminals is a simplified version of Atlantic Waves IV. It allows two performers to play with each other, but in order to be better understood, it lacks some of the more sophisticated features of the concert version.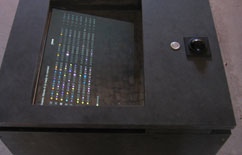 Two terminal boxes have been build, each equipped with a TFT display, a trackpad, computer and sound card.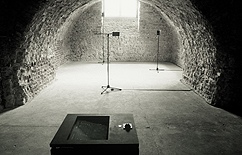 Atlantic Wave Terminals is a commissioned work for the 'Singuhr Hoergalerie', 2004. The two terminals were both located at Parochial church in Berlin, one in a room high up in the bell tower, right below the bells and the other one in a room in the middle of the tower. The photo on the left shows the terminal and some of the small speakers mounted on stands in the upper room.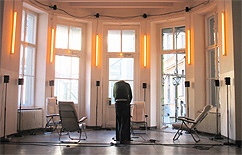 Derived from
Atlantic Wave Terminals
is the installation
Linear Grid
. Its main focus is the exploration of spatial mappings of sounds onto an array of speakers.
Read more...