Some insight into what I am working on at the moment, mostly linked to the development of performances and installations. Don't expect details, I have no time for this, but just some exposure of processes normally hidden. The result is one thing, the work behind it to get the results is a different story, which I attempt to partially tell here.
Video Out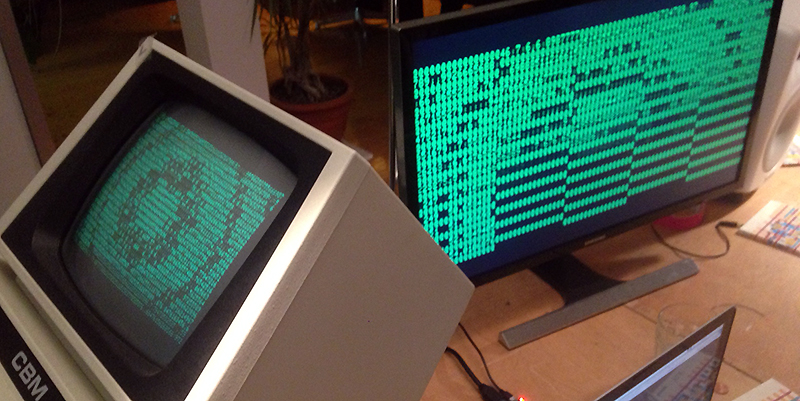 [2016-10-21] We did it! A 36 year old computer mirrored to do full HD video output with 50 frames per second. We knew it should work in theory, but seeing it running for the first time is a different story. What looks very simple in the end is the result of scanning the data and address bus of the CBM computer, then reconstructing the character set and adding the specific blur from the CRT display to make it look right. Ironically this takes 1000 times the CPU power of the old machine. The HDMI out will make it possible to display the graphics nicely with video projectors or large LED screens. (note that the photo shows the first attempt with a shortcut in one of the address lines)
Mixing Monolake VLSI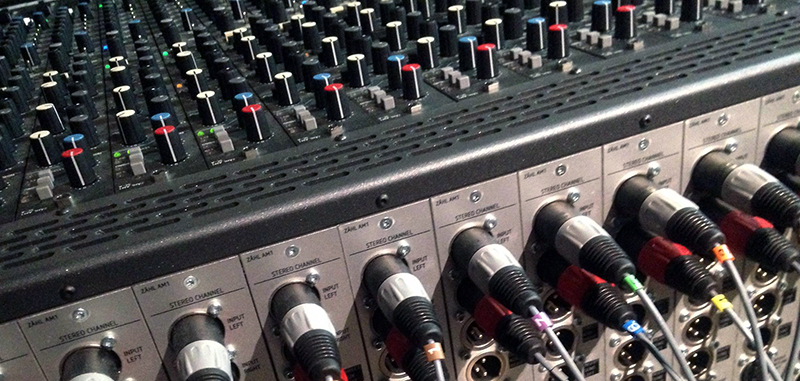 [2016-08-28] Nothing to report from my 8032 project since I spend all my time finalising a new Monolake album - VLSI. For the first time I am using a large console for the final mixdown. Insights gained: (1) I don't need compressors. What ever a compressor can do, I can do better with adjusting envelopes or drawing automation. Mark Ernestus, in who's studio I am mixing, and myself tried several attempts and we both came to the same conclusion here. So it comes down to EQ and levels. (2) There is an enormous benefit from not looking at a screen and having tactile and parallel access to all controls. If all parts of a musical work are patched to physical faders right in front of you, the structure of the piece becomes far more transparent. The preparation for the mix already enforces a clarity which is easy to loose within a DAW. Tracks need to be named, and grouped in meaningful ways. Since a lot of my current music is constructed from an abundance of micro edits on several tracks, that necessity to route those fragmented parts to dedicated outputs already becomes part of the final cleanup. I ended up simplifying my source material in the process. Looking forward to hear the whole album in one piece at the end, and hopefully coming to the conclusion that the effort was worth it.