audiovisual laser performance [2013,2015,2017]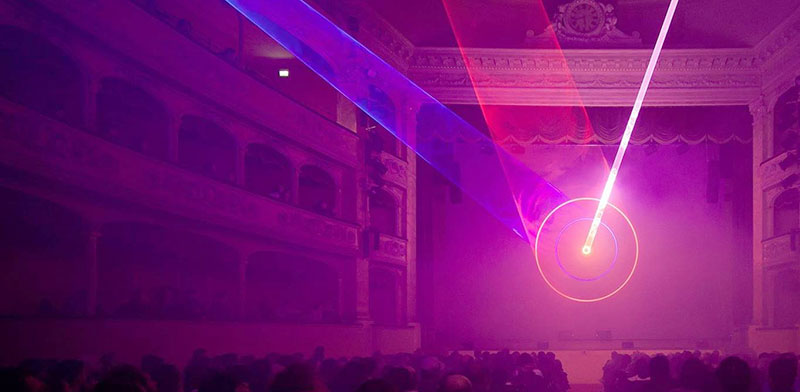 October 18 2013
Premiere of Lumière I
Unsound Festival
Krakow, Poland
February 19 2015
Premiere of Lumière II
Centre George Pompidou
Paris, France

February 16 2017
Premiere of Lumière III
Barbican Concert Hall
London, UK
Lumière III
is the powerful, dramatic, minimalist, bright, loud, and poetic, third iteration of a long-term audiovisual concert project featuring high precision lasers. After more than six years of in-depth occupation with the unique qualities of the medium, and more than three years since the premiere of Lumière I, the latest iteration of the work marks a huge step forward. Exploring new territories of breathtaking synesthetic expression, the piece unifies the raw quality of the initial version with the refinement of the second one, taking both extremes even further.
Bringing Lumière to life involved the creation of original software. While coding algorithms is a typical part of my artistic practice, required a deeper and more rigorous level of development, building a unique framework for controlling the lasers in ways not supported by existing commercial laser show tools. Within my own software, the lasers become visual musical instruments, with their own properties and emergent behaviors; drawing with light using extremely fast moving mirrors is high-tech calligraphy. The resulting artifacts and the precision are two sides of the same technique.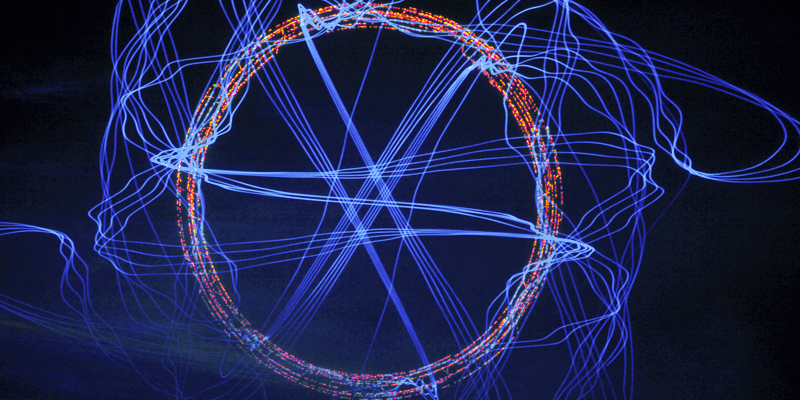 The key to Lumière III is language: symbols, expressions, and communication noise on multiple levels.
Technical descriptions of the graphical patterns within the computer code are text based: strings of words and numbers convey meaning and trigger actions. This layer is hidden to the audience, but the result is not. An audiovisual piece is conceived, eroding the barrier between visual score and musical expression. Every atom of Lumière is an entangled structure of light and sound, inseparable from its creation and forming larger entities.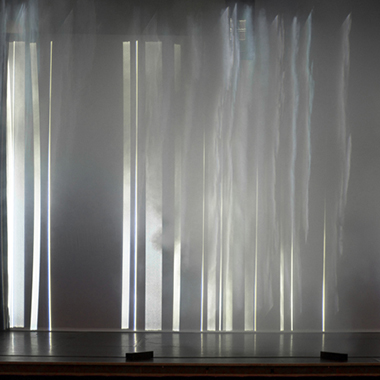 The software for Lumière I was a draft, discarded and rewritten from scratch for Lumière II. The second iteration got extended and further refined for Lumière III. This time, it is about mastering what has been programmed already, benefitting from the experience with the previous editions of Lumière and with the laser based installations created during the last years.
The beauty of Lumière III is rooted in the contrast between raw power and complex, intricate movement; it manifests itself in the extremes it explores. Archaic moments of light and darkness, paired with massive sonic events, provide a counterpoint to slow, deep and ephemeral ballets of laser beams and soundscapes in surround.
Lumière III offers stories, fragments of narration, abstract successions of images, which might or might not be interpreted. It can be read as pure audiovisual stimulus in the tradition of 'mind machines', a stream of data to your senses, where time loses direction and meaning. It can be explored like a painting or sculpture, it can be perceived as concert of electronic music or as a screening of abstract cinema.
Lumière III operates on the principle of persistence of vision. The lasers draw single lines, moving very fast and very precise. Human eyes cannot follow that movements and thus create their own interpretation, merging a bit of the past with the now, layering elements that are separated by tiny moments in time. Dots connect to form complex shapes. Very bright moments exceed the dynamic range of our visual sensors and from the after images, darker than black, negative shapes emerge, figures of anti-light, literally unseen objects that are created inside our brains.  
Lumière I and II has been presented more than 50 times in Europe, Asia, Africa, Australia, North- and South America. The project has been staged in 16th-century theatres in Italy, in amazing concert halls all around the globe, in vast industrial spaces, and in the yard of a castle high up on a hill in Portugal. It has been acclaimed as a highlight of the most significant festivals for audio visual performance world wide, including CTM, MUTEK, STRP, Unsound, and many more.
The Lumière project has inspired countless people to explore lasers for artistic expression, drove the development of a custom laser system specially designed for its performance, and inspired the addition of vector graphics modules to a well known visual software package.  
The ongoing refinement of the Lumière project would not be possible without the very generous support by LaserAnimation Sollinger, Berlin. [link]
Video below from a performance of the first version of Lumière at Donaufestival, Krems, Austria.