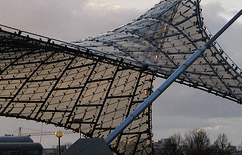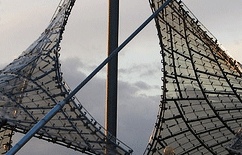 ...we are not sure anymore about the exact date of this concert. It must have been winter 1998/1999.
Dr. Kern
was a small club / bar in
Munich
, Bavaria, Germany, and all I remember is that Gerhard and me played while sitting in one corner with half of our studio in front of us and that it was snowing when we left the venue.
At this time our live sets were long improvisations using lots of hardware. We carried around a huge and heavy rack with equipment. I was more responsible for sound manipulations and mixing while Gerhard operated our self-written step sequencer, the PX18, based on a MAX patch. (A lot of inspiration for the Ableton Live sequencer came from this patch...)
We lost the original recording of that concert. The two parts available here were extracted because we thought of releasing the concert on a 12" but finally decided it was not good enough. I think it was the right decission, but I am happy to hear it again now, seven years later. The structure of the set is questionable, but I still like the sonic atmosphere, especially the airy strings.
There are obvious connections between the grooves and sounds heard on this live set and the tracks Abundance and Perpetuum released in early 1999 on the Interstate album.
Enjoy the music!