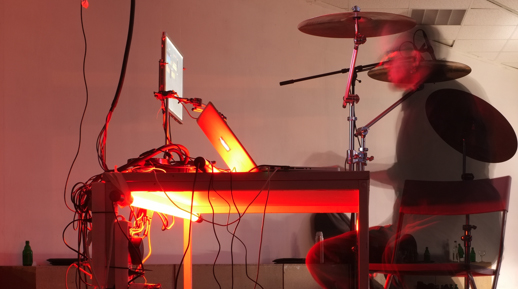 For ten speakers and percussion
26th November 2011 23:00 to 27th November 2011 11:00
LEAP
Lab for Electronic Arts and Performance
Karl-Liebknecht-Str. 13
10178 Berlin
The music of
Robert Henke
is preoccupied with the present: how something sounds in that moment and what color and substance convey a rhythmic phrase?
Music as a state
. Only later will this condition be formulated over time. The artist's installations are always explicit and in turn relate to the phenomena of temporal change.
The work Microsphere, developed for LEAP combines both fields, and explores the boundaries between
installation
and
live performance
. Acoustic sounds from percussion instruments distributed throughout the room are recorded during the performance, slowed down repeatedly,
atomized into tiny particles
and distributed to many speakers. Over the course of twelve hours, more and more sounds are produced and the result is an ever-growing repertoire of spatial-tonal gestures. The composer withdraws from the machine and lets it develop and change itself constantly over long periods of time. The structure of the performance arises from many variable and instantaneous decisions during the performance.The possible outcomes may be small and delicate, almost inaudible and static, or loud, brutal and full of complex repetitions.