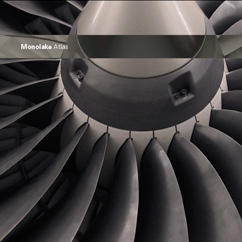 imbalance computer music | ML 023 | May 2009
12 inch vinyl
Produced by Robert Henke. Mastering by Rashad Becker at Dubplates & Mastering, Berlin.
A Atlas [listen to excerpt]
B Titan [listen to excerpt]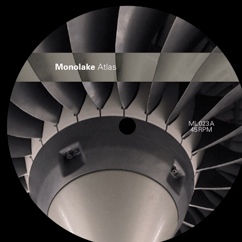 So excited was I by the almost magical appearance of this release—Robert Henke's first under the Monolake alias since mid-2006—that I accidentally bought it twice. Which, quite frankly, is all gravy, because it's nothing short of breathtaking. Coming at a time when talk of dubstep x techno inspires as much antipathy as it does excitement, it's a much-needed breath of fresh air, drawing on both genres' strengths but ultimately landing up—like so much of Henke's best material—in a world all of its own.
A-side "Atlas" melds devastating wads of bass to Resident Evil-esque panic strings and spine-tingling percussion the likes of which Henke is so skilled at dealing in. A meandering woodwind lead—unusually earthly by Monolake's standards—takes centre stage, howling and screeching as it plays off against the track's more heads-down elements, never quite settling and, as such, lending the whole thing a gripping, cinematic sense of tension. Skipping along at a healthy 140 BPM, "Atlas" will mix comfortably with your average Hotfulsh or Hessle ditty, but to call it dubstep (or whatever else) would be silly. It's simply dark, heart-stopping club music.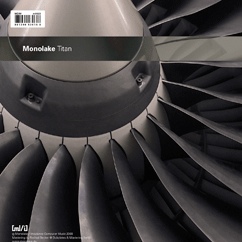 B-side "Titan" deepens the already palpable lost-in-space ambience, sticking with the garage-friendly tempo but adopting a straighter, kick-driven posture. Bleak, dubby chord stabs are the order of the day, lashing against the track's skittering beat pattern—a kind of jittery, alien UK funky shuffle—and opening out majestically at the halfway mark as things slide into deeper, melodically sumptuous territory. An epic piece of sound design, it's up there with the best of Monolake's considerable output, and evidence (impossible as it might seem) that this project—now over ten years old—just gets better with age."
Max Bacharach, Resident Advisor 22 Jun 2009
*** distributed by Hardwax ***